A New Leader in Conservation Launches the Sea Girt Conservancy
A New Leader in Conservation Launches the Sea Girt Conservancy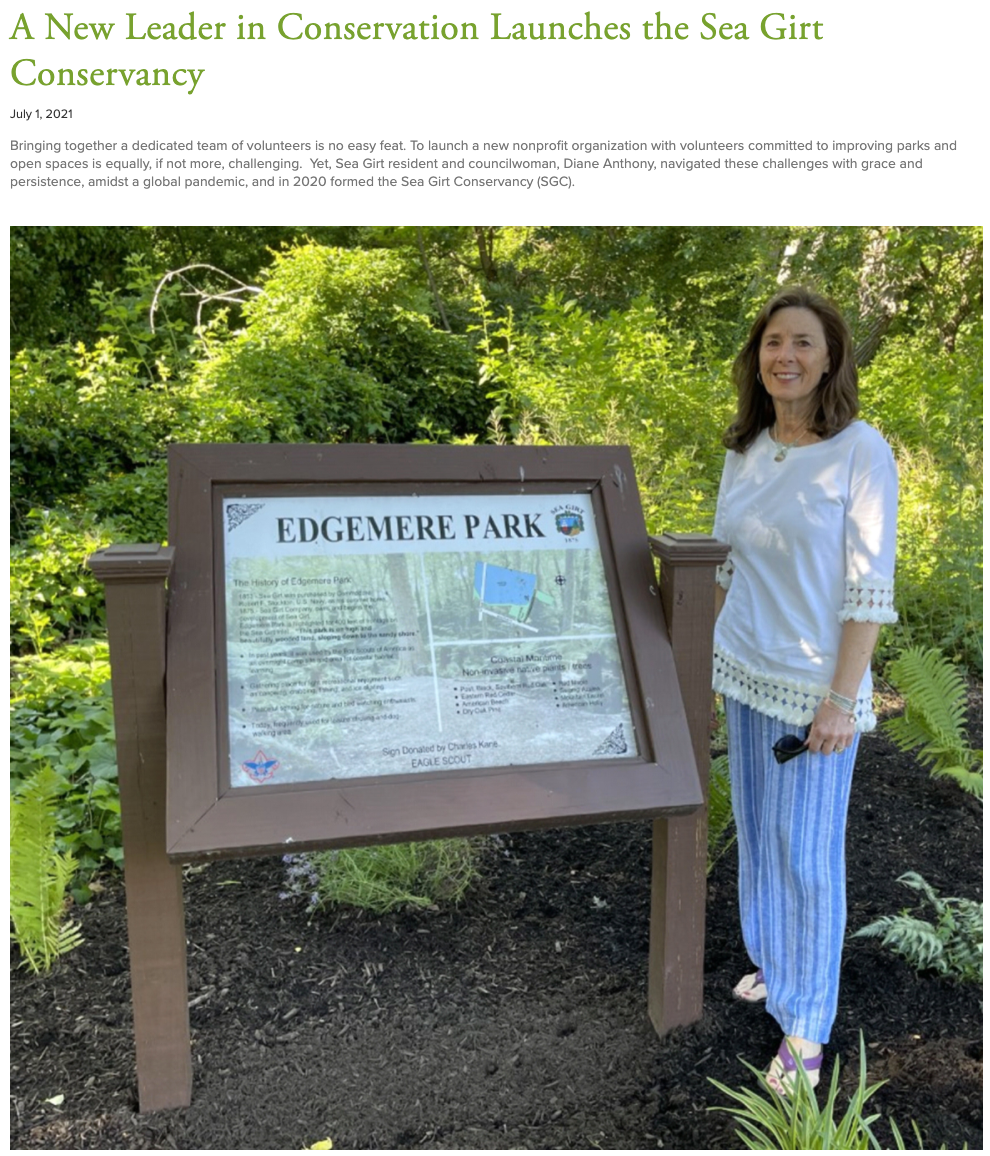 The following is an excerpt from The Monmouth Conservation Foundation
…
Bringing together a dedicated team of volunteers is no easy feat. To launch a new nonprofit organization with volunteers committed to improving parks and open spaces is equally, if not more, challenging. Yet, Sea Girt resident and councilwoman, Diane Anthony, navigated these challenges with grace and persistence, amidst a global pandemic, and in 2020 formed the Sea Girt Conservancy (SGC).
"After living here for many years, I didn't know about Edgemere Park until joining the borough council.  That was the moment the light bulb went off for me that more needs to be done to raise awareness and improve our Sea Girt parks ", explained Diane.  "I'm self-taught on the subject of conservation, but it's something I'm passionate about because I know how important it is to maintain our natural spaces for the community."
It became evident quickly that more funds were needed to accomplish park improvement plans and as a fiscal conservative, she did not want to introduce an additional tax burden on residents.  A fellow resident and supporter of her park improvement plans, now SGC chair, Alan Zakin, Esq. suggested forming a nonprofit that could raise funds for the park and leverage resources without increasing taxes.  From there the idea for the Sea Girt Conservancy was born.
Like many a great leader, Diane knows how to bring people together and began by reaching out to various friends and members of the community to join forces to tackle the challenge.  Diane shares that "it's the gentle, but persistent approach" that she has tried to convey given that not everyone agreed with this project being a priority for the borough.
…
You can read the article in its entirety at monmouthconservation.org.
Other posts that might interest you